How can you improve your home WiFi coverage?
If you are experiencing any slow connection speeds, or difficulties in connecting to your WiFi network around the house, it might be worth looking into wireless range extender technology. There are various solutions depending on the layout of your house, and where you need to improve coverage. Give us a call and we can talk you through the options.
To get an idea of the WiFi strength around your home you can use a smartphone app such as the following:
If you decide to add a range extender, you need to ensure it's transmitting on a different channel/frequency to your main router. If it is on the same frequency, it will make WiFi problems worse with interference. The smart phone apps above can be used to confirm this.
WiFi Range Extenders
Wireless range extender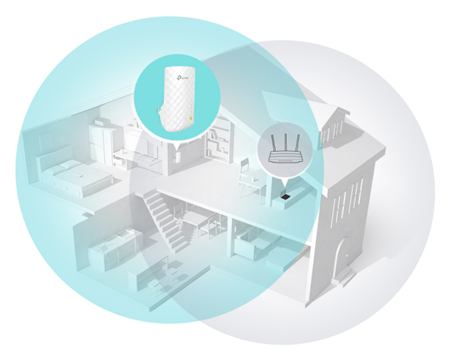 Where the electricity circuits are not good quality, or perhaps the area you want to get your WiFi coverage improved is not on the same circuit, you might want to use a plug in extender such as the TP-Link RE200 Dual-Band AC750. This device is positioned within decent coverage from your existing router, but towards the area you need to improve coverage.
approx. price: $85
Powerline Networking

It's possible to extend your WiFi coverage using your existing power circuit. Device pairs such as the TP-Link TL-WPA4220 KIT AV600 plug into your current router at one end, then the other device plugs in on the same circuit but in a different area of the house and broadcasts a strong WiFi signal in this area.
approx. price: $140
New WiFi Access Point
This can involve more effort to install depending on your existing network cabling. While a little more advanced, if your home or business is already wired for network connections with Ethernet or CAT5 outlets, you can use a range extender or router in Access Point Mode to create new WiFi access right there.
approx. price: $50 - $200 depending on requirements
Outdoor WiFi coverage
A powerful solution to broadcasting your WiFi to multiple dwellings, or to many devices is Ubiquiti's Unifi range. Please give us a call if you're considering a solution like this so we can talk you through the requirements and set up which can be tricky.
approx. price: $200